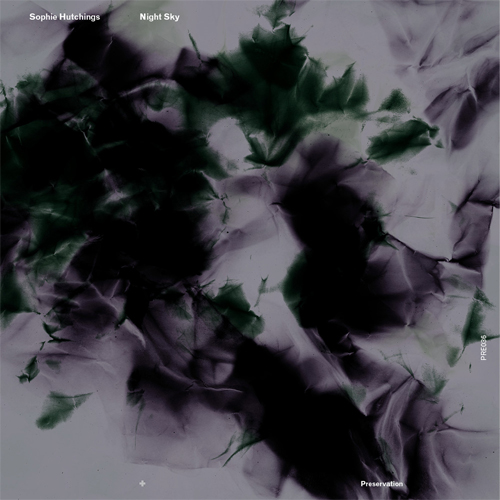 Australian based Preservation continues to impress… So first, a few words about the label. I stumbled upon one of its releases some time in 2006, when Aaron Martin released his debut album, Almond. My interest was renewed two years later, with Richard Skelton's Marking Time. And just last year alone, two of the label albums have been featured in Headphone Commute's Best of 2012 lists: Digressions by Greg Haines, and the subject of this review, Night Sky by Sophie Hutchings. Last year the label also ran a limited edition CD series called Circa, featuring six works by Padna, Olan Mill, Mirror to Mirror, Panabrite, Sparkling Wide Pressure and Seaworthy. In all honesty, I recommend you check out all six (and better yet, attempt to obtain physical copies). But back to Night Sky…
Sydney's Sophie Hutchings came on the neo-classical scene in 2010, when her gorgeous debut Becalmed (Preservation, 2010) found itself among composers such as Peter Broderick, Dustin O'Halloran and Nils Frahm. This follow up, Night Sky, sees Hutchings cementing her place on the pedestal among my favorite modern pianists. With eight marvellous pieces, Hutchings takes us into her musical world, where piano moves in a graceful dance among the radiant strings, light woodwinds and gentle whispers. The music is light, confident and hopeful, bringing on the sense of well-being, encouragement and pure delight. The accompanying background elements create a fuller atmosphere where piano draws the final chord, like the dissolving contrails in the darkened sky.
Balancing the beautiful fragility in her work with a deeper sense of urgency creates a striking charge to Night Sky – a compelling pulse that also encompasses a lightness of touch in parts making for an album of many shades set within Hutchings' beguiling vision.
There are many untold stories on this album. But among the many drawn by Hutchings, the most important one is yours. It is the one that briefly comes up to the surface of your being, awakened only by this music from its prolonged sleep. And when you get a glimpse of that particular emotion, you will know it. You will know it more than ever. And for that we'll have to be indebted to Sophie Hutchings. I am extremely excited to welcome this young pianist into the world of modern classical composition which is growing stronger day by day with a roster of talented musicians. Although I'll always love the classical piano works I was bound to recite as a child, it's finally beginning to feel like piano music is ours again. Do you know what I mean?
Be sure to read Headphone Commute Interview with Sophie Hutchings