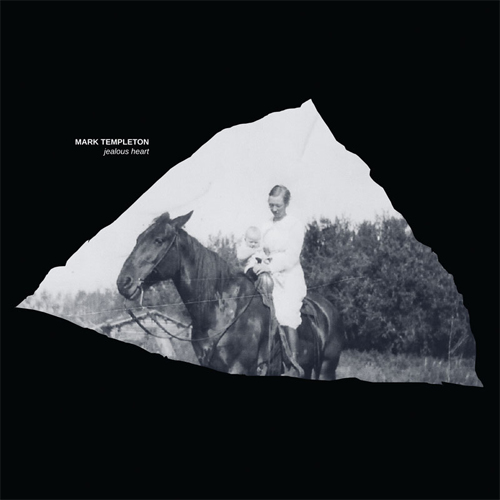 Mark Templeton is a Canadian sound artist whose work merges the unspoken poetics of found sound with the aesthetics of electro-acoustic and experimental composition. His rather unique approach to composition was what I instantly connected to in 2009 when I first listened to his album Inland released by Anticipate. I voted this album as one of my favourites of the year and it made sense to me from that point onwards to keep track of his past and future releases. Having said that, Templeton's work is not limited to his album releases. He has worked extensively on commissions for contemporary dance, film, audiovisual and multimedia projects. In 2010, Mark was generous enough to compose a new track for an exhibition I curated while in New York (see Safely Into March). Jealous Heart marks his first release for Under The Spire Recordings, which will be released in an edition of 300 vinyl LPs in March of 2013.
Jealous Heart find us listening to Templeton's perhaps more introspective work to date. A continuation of the thread left unraveled since Scotch Heart, this second installment in the "Heart" themed trilogy, is the culmination of a series of experimentations with obsolete devices and materials. Age and individual time stand still and under scrutiny throughout the 10 compositions of Jealous Heart. The opening track "Buffalo Coulee" sets the pace for the album and introduces us to a universe of dusty and exhausted jazz horn and piano samples that re-appear in the album and loosely form an underpinning theme. "Once Were Down" and "Sinking Heart" are perfect examples of that particular sound and justify what is described in the press release as "a sense of stillness, a balancing act that is incredibly difficult to get right".
"The album tells a story through the emotions and perspectives that manifest to each listener uniquely. […] I would like to think that it causes the listener to reflect and to have some connection to the past. A connection to someone else's story, heard through different ears."
Jealous Heart can be read in many different ways and it demands multiple listening to become absorbed and complete in the listener's head and heart. In tracks like "Carved and Cared For" or "Flat3", a constellation of dark, nostalgic and amorphous sonic clusters calls for the listener to join the dots while retaining its solid core. The interplay between abstract repetition and disruption establishes a subtle yet effective tension and release of emotional and textural dynamics; a feature that can be also found in Templeton's previous releases and one that drew me towards Inland.
"Jealous Horse" and the closing track "Straits" offer an exchange of slow moving patterns and sudden brief pauses as if an old video tape of a family road trip is played back in slow-motion and in reverse. By the end of the album the listener is left standing sun-soaked in the middle of this unknown yet familiar old and dusty road, not unlike Harry Dean Stanton in the opening scene of "Paris, Texas". And that's exactly when the journey of discovering Jealous Heart really begins.
Be sure to read Interview with Mark Templeton
fieldsawake.com | underthespire.co.uk
©
Review by Maria Papadomanolaki exclusively for Headphone Commute