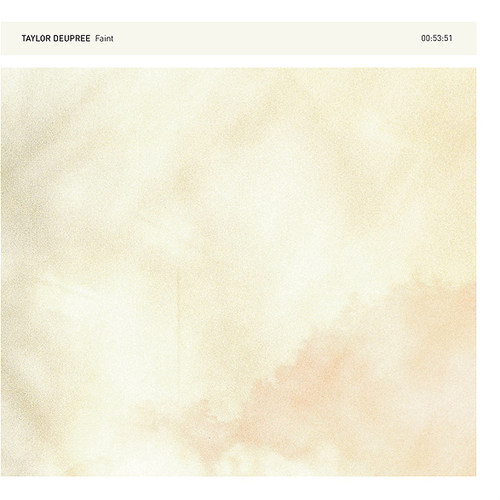 There used to be a time when ambient music was defined as beatless electronic drone turned to a volume just above the background noise. When in the early mornings, after a long and wild night, its spacious sounds lullabied the racing mind into a deep and dreamless sleep. When 'classic' ambient recordings spawned from the bottom of the 'new age' bins at your local music/book store. When names like Brian Eno, Steve Roach, Pete Namlook and Harold Budd were spoken softly among the educated few in smokey downtempo lounges. Since then the genre has evolved and branched into a wide array of styles. Among the many pioneering labels, contributing to the evolution of the genre, one stands assuredly grounded in time. Founded in 1997, 12k enters its sixteenth year of quality releases within the microscopic-sound music, blending the elements of synthetic and incredibly organic ambiance. At the heart of its vast catalog we find records by its founder and curator, Taylor Deupree.
Deupree's sound consists of minimal ambient pieces, where the accidental field recordings of barely audible shuffles, slight pickups of contact microphones, and acoustic din softly graze the stretching soundscapes and gentle waves. The five pieces on Faint maintain a very intimate atmosphere, slowly revealing a fragile sonic scenery in which Deupree carefully tinkers with manipulated sound. Perhaps my perception of music on Faint is augmented by a recent memory, which recalls an experience of watching Deupree live. A darkened room, a bending figure over a table piled with mysterious circuitry with blinking lights, a quiet humming resonating from my wooden chair, a smell of hanging dew and dust, a distant sound of a melting snow… and music warping time…
"The tiny fraction of time between waking and sleep, with no distinct perception of reality is a moment to be held and absorbed for as long as possible. It is the ontologically fleeting moment of the present, as our heavy eyelids close and our pulse slows, that is the inspiration inside the music of Faint, the new album on 12k by Taylor Deupree."
With Faint, Deupree succeeds in capturing the essence of the genre. This is ambient music which is as interesting as it is prosaic. A sound which could be totally ignored or analyzed in great detail by peeling back its many layers. And I must focus on my entire being, become aware of my awareness, in order to let this essence deeply sink. Faint is a somatic ode, an environmental hymn, and a daydreamer's psalm all lightly folded into one. Highly recommended for sleepy winter mornings, with open windows and steaming tea. For more solo recordings from Deupree be sure to pick up Shoals (2010), Weather And Worn (2009) and Northern (2006), as well as his numerous collaborations with Richard Chartier, Christopher Willits, Kenneth Kirschner, Marcus Fischer and Stephan Mathieu, all released on the wonderful 12k.
Be sure to read Interview with Taylor Deupree