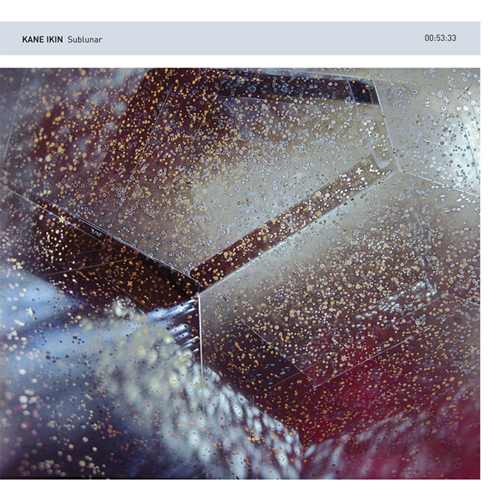 I'm on my fourth listen of Sublunar and I'm seriously impressed. Impressed, and a little bit surprised by its elegant aesthetic, rich with layers, dimness and form. It was a regular Sunday morning when I decided to catch up to the latest releases from one of my all-time favorite labels, 12k. The fall just turned chilly, my mind brisk and snappy, my room fresh and crisp. I was brewing some tea, getting apt for that fuzzy and warm organic ambient sound, so characteristic of Taylor Deupree's New York based label. But amidst the thick lo-fi membranes of Sublunar, there was something more. What were those shuffling and straggling rhythms? What were those scraping and stumbling beats?
Perhaps my mind was playing tricks on me. Perhaps it was the gated dynamic effect on the heavy textural plateau that made me mistake it for valleys and mounds. The thick fibers of sound, plugged into my ears like wet cotton balls. My speakers immersed below a sooty surface, dipped in darkness, dirt, and grime. Ah! I definitely heard a distorted 909 kick just now! A drum machine on a 12k record? I must be dreaming after all! Like a warped cassette tape from the back of my hot 1980's Toyota, the sound on Sublunar is both, aged and new.
"The word "sublunar" can be read to contain many conceptual layers important to the album. It is music about moonlight, darkness, the faintest hint of light and shadow…. Moons locked in orbit, repetition, gravity, weight, pressure… Subconscious, subliminal, distant, deteriorated signals, like radio waves lost in a noisy haze of transmission… and about dust, noise and oversaturation."
Sublunar is actually Kane Ikin's only first full-length album. If at first Ikin's name sounds familiar, it's because he's one half of Solo Andata, along with Paul Fiocco. Together, the duo has released a self-titled album on 12k, as well as a four-track vinyl, titled Ritual on Desire Path Recordings. Ikin has also previously put out a 7″ EP, titled Contrail on 12k, and most recently, a collaboration with David Wenngren (that's Library Tapes), titled Strangers on Kesh. So my earlier unexpected reaction should be slightly justified. Although the sound is still ambient in nature, it is indeed rhythmic, structured and framed.
I'm really in this kind of mood lately. The word hauntology comes to mind. Records by Demdike Stare and Andy Stott, as well as Black Swan and The Caretaker neatly fit along Sublunar [perhaps I must make a mix]. I close my eyes and see a vinyl crate digger, a scavenger of an abandoned warehouse, a shopper in an antique store. This place has stained and soiled lamp shades, corroded iron keys, and tarnished film. Curtains crumble under the weight of memories. A record clicks in its last locked groove. I open the door into the dining room and see a family before their supper. I speak, but they can't hear me. To them, I'm just a ghost.
Be sure to read our past Interview with Kane Ikin, as well as review of Contrail and Strangers