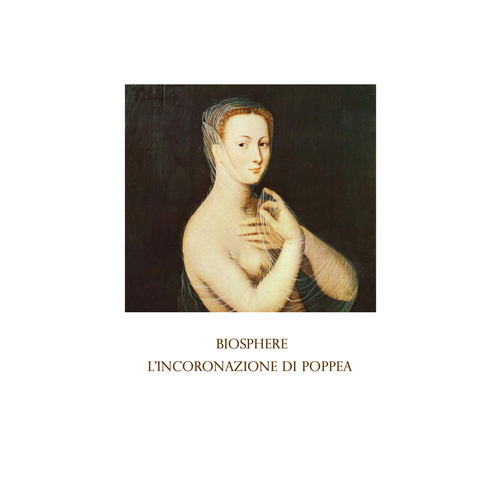 So this is an interesting turn for Geir Jenssen. I would even go as far as to say that it's unexpected. Last year, Jenssen released his ode to Japan's nuclear program (right before the unfortunate Fukushima power plant disaster), titled N-Plants. The album was received to mixed reviews – the ambient production, which has been the staple sound of Biosphere for most of his releases on Touch, has been complimented by an abstract, downtempo, and at times very experimental sound. Then, at Unsound Fesival in New York, Biosphere partnered with Lustmord to deliver a once in a lifetime performance of deep rumbling tones, piercing frequencies, and minimal aesthetic, exploring the first detonation of an atomic bomb, under the code name Trinity. The project felt like a return to Jenssen's isolationist sound.
But L'incoronazione di Poppea is a completely different affair. Published by his very own Norway-based Biophon Records,  the twelve-track digital release has been commissioned by the Ingun Bjørnsgaard Prosjekt. The album is based on, and titled after Claudio Monteverdi's opera. The pieces on the album continuously loop over a few short sampled phrases from the recording, full of vinyl clicks and pops. Each track is then effected with an oscillating dynamic gate, which flutters throughout an echoed piece of somewhat disintegrating sound. These miniature vignettes remind me, of course, of William Basinski's The Disintegration Loops (which, by the way, is going to be re-released as a 9xLP + 5xCD + DVD + Book massive collection, by Temporary Residence Limited in November of 2012), and more specifically The Caretaker's Persistent Repetition of Phrases (Install, 2008) and An Empty Bliss Beyond This World (History Always Favours The Winners, 2011).
The commissioner is a Norwegian dance and theater production company, established by the Choreographer Ingun Bjørnsgaard. Jenssen's composition is a soundtrack to an hour-long performance titled Poppea. The original Italian baroque opera was first performed in Venice in 1642. Although this release is a dance score to a highly visual performance, it can nevertheless be enjoyed on its own, as my numerous plays can attest. Meanwhile, Biosphere is scheduled to perform at the upcoming Decibel Festival in Seattle, at an Optical 3: TOUCH30 showcase, along with Eleh, Jon Wozencroft, The Sight Below and lissom. You can be sure that I'll be there!