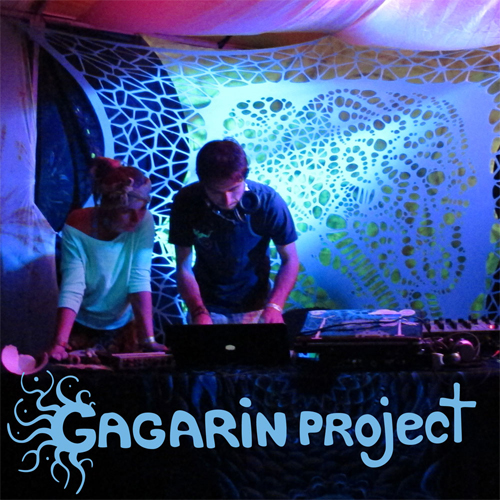 There's something about psybient music that takes me to other worlds… If I think about the evolution of electronic music, I would have to say that early sound by acts like Future Sound of London and even Orbital eventually evolved into psychedelic ambient, full of downtempo beats and organic instrumentation. On this installment of Headphone Commute podcast we feature Gagarin Project's live mix, recorded live at Misterika 2012, in Crimea, Ukraine.
Close your eyes and imagine: MYSTERIOUS dome of the sky full of blinking stars, reflected in the mirror water of the mountain lake, thick grassy and incensed air, peaceful atmosphere created by the heart-opened creatures… and, of course, enchanting and leading to wonderlands of NoWHere psychedelic melodies… Live your dream! Love your planet and all surrounding you! Create your unique Mystery!

Cover art is based on image taken during the festival.
Tracklisting:
01. Androcell – Nuerosomatic Circuit (Brain Waves Mix)
02. Warp Technique – Whale Salt Dog
03. Scann-Tec – Aviator
04. Gagarin Project feat. Kiolla – Cosmic Flight
05. Aes Dana – Aftermath #03
06. Makyo – Devadasi (In Dub)
07. Bluetech – Embrace
08. Tripswitch – Tomahna (Kuba Remix)
09. Choop project – Mysterious dreams (voice edition)
10. Shpongle – Divine Moments Of Truth (Original Russian Bootleg Mix)
11. A. Testa & M. Piazza – Little Science
12. Uasca – Ayah
13. Cell – Zaz
14. Indigo Egg – Clouds of Indigo
15. Colourform – Magic Carpet (Ishq Remix)
16. Master Margherita – Super Dry
17. Vakuum Sounds – Evolution Zero
18. Suduaya – Snow & Stars
19. DXTR & Coco – Love You So
20. Gagarin Project feat. Kiolla – Live Love Create
[ S T R E A M ] | [ D O W N L O A D ] | [ P O D C A S T ] | [ i T U N E S ]