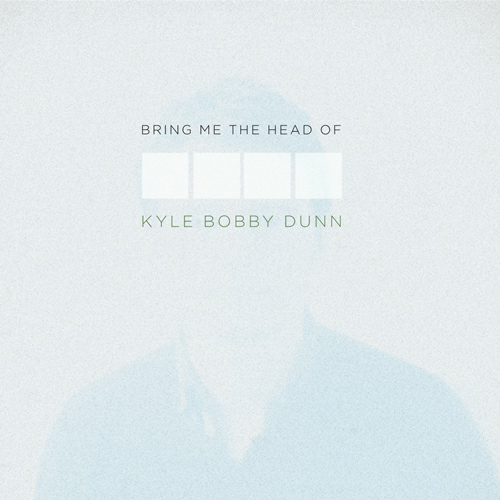 If you've never heard of Kyle Bobby Dunn, let me fist disperse any misconstrued perceptions you may have, presumably gathered from the title of this album, Bring Me The Head of Kyle Bobby Dunn. No, this is not an all-consuming breakcore album, nor a beat driven avalanche of rhythms. In fact, there are no beats on the album at all. Armed only with his electric guitar and a few loop pedals, Dunn manages to bring an all-consuming avalanche of emotions, which drown, overwhelm, and put to rest any misconstrued perceptions gathered from this life. The long stretching fingers of sound escape from the strings and levitate above the landscape of atmospheric morning bliss.
In fact, I prefer to listen to Dunn's ambient soundscapes in the early morning, while my neighbors are still sleeping, and the tones at the higher frequency spectrum won't penetrate the walls. These are the drones I can turn all the way up, with my windows open and my eyes ajar. Something in the major harmony of the resonating sound waves creates a mood of calmness, reflection, and well-being, involuntary nudging my mind into a trance-like meditative state. The pads soar, vibrate and cycle, like an endless ocean of sound, full of continuous repetitive current.
Drawing upon a love for emotional detailing and cinematically charged grandeur, these suites offer an apex in romantic, haunting and lonely bliss. […] Very different worlds all seeming to fit inside one massive, cohesive and overwhelmingly emotional whole, one that clings to the heart strings of the listener like smoke and honey. […] An album which creates landscapes that will become impossible to forget and something you will want to travel with for years to come.
The double-disc album collect the tracks composed over several years, recorded in Dunn's hometown, Brooklyn, New York, and Canada. Low Point, a Nottingham (UK) based label run by Gareth Hardwick, has previously published another double disc release by Dunn – A Young Person's Guide To Kyle Bobby Dunn (Low Point, 2010), as well as some of my all time favorite albums, including Celer's Tightrope (Low Point, 2012), Tim Catlin & Machinefabriek's Patina (Low Point, 2011) and Dag Rosenqvist & Simon Scott's Conformists (Low Point, 2010).
It seems that every year, Dunn puts all of his energy into another slowly evolving minimal album. For the past six, he has released works on Housing, This Generation Tapes, Sedimental, Moodgadget, and Desire Path Recordings. Bring Me The Head Of Kyle Bobby Dunn is his eighth studio album, and in no doubt shows any signs of slowing. Recommended if you enjoy guitar driven ambiance from Brian McBride, Stars of the Lid, and Listening Mirror, as well as works by Christopher Bissonnette, Lawrence English and Stephan Mathieu.