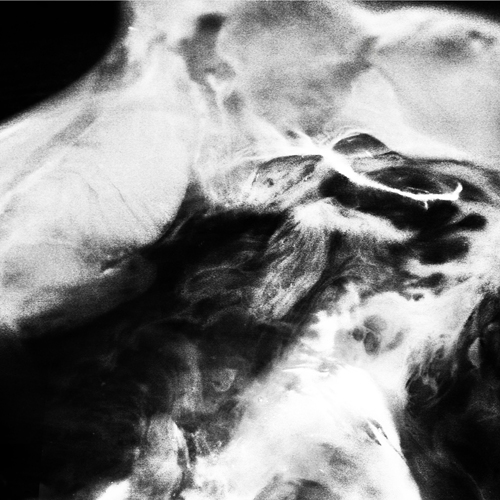 SaffronKeira's music is pretty dark. In fact, it's so dark, that on numerous occasions, when I sat down to write about the album during this past sunny weekend, I had to close all window blinds and turn off the lights, or postpone the process until the dusk came. This music wanted to be a soundtrack to the empty night. Combining analog gurgling with digital rhythms, the sounds on A New Life bubble and twitch in an unnerving dance of sonic evolution. There are elements on the album that remind me of the earlier minimalism explored by Plastikman and the later atmospheric experimentation by The Surgeon, but techno is not a proper term for this. The Autechresque percussion treatments mix with the dusty vinyl digging of Demdike Stare, while the drone ambiance layers the cold floor with the Black Swan aesthetic and the precision cuts of Raster-Noton catalog, falling into the only possible unclassifiable category I could define: hauntology.
Hailing from Sardinia, Italy, SaffronKeira is a project by a sound researcher, Eugenio Caria. Previously appearing with a remix on Charles-Eric Charrier's Silver (Experimedia, 2011), Caria came onto the scene with a 10″ two-track self-titled EP, courtesy of Denovali, just this past May, 2012. Whether it was just a taste of things to come, or an inevitable success of the record, the resulting full-length is more than just an album – it's a double CD! The release is split up into Old Life and New Life chapters, each boasting tracks that average 10 minutes in length and beyond. The vinyl version is released on two separate 2×12″.
The bleak cover art and titles such as "Symbiosi", "Pregnancy", "8th Months" and "Last Days.." suggest a concept preoccupied with the development of human embryo. The post-processed glitched out sounds of a crying baby appear on the opus titled "Psychologically Destroying", hinting at the first detachment during our child-birth. The underlying darkness of the album is further reflected in track titles such "Acceptance Of Mental Disorder" and "Endless Agony Of Being Sick". And the twilight descends.
"With SaffronKeira, Eugenio Caria lives out his passion of being a researcher of the possibility of expression offered by currently available technology. Indeed, in his tracks he experiments a lot with electronics and unconventional elements, which sometimes seem meaningless at first sight, but uncover their significance only on a closer examination. Combining subtle and sometimes even almost invisible rhythms with textures of sound he confidently moves between minimalistic pieces and classic ambient tracks which should please both the analytic ears and the listeners who just want to dive into the music."

For SaffronKeira, Caria employs some of the familiar digital effects, field recordings, and post-processed noise, but he does so with a breath of fresh air, allowing one to appreciate the practice, progress, and process. The evolving tracks take on a hypnotic atmosphere, swirling just below the line of consciousness, where the received and the perceived datum collide, creating a brand new universe, space and dimension. A New Life is an album that will surely grab your attention if you are a fan of digital darkness and analog void by artists such as Murcof, Jasper TX, Hecq, Cindytalk, The Caretaker, Andy Stott, Raime, and the above mentioned Demdike Stare and Black Swan. Really enjoyed this one. Thank you, Denovali!
Be sure to read Interview with SaffronKeira