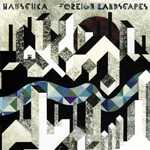 I remember the very fist time I heard Hauschka. Strange bells, cardboard clicks, and metallic slaps accompanied each note. At first, I was not aware that this was a prepared piano – an altered instrument with placed objects between the strings and hammers. Upon learning of Volker Bertelmann's exploration of possibilities through instrument modifications, I became entranced in the newly created sound of [what piano is actually classified as] a tuned percussion instrument. But it was not until I've seen Volker play live on a prepared piano, that I fell completely in love with his beautiful sound.
Foreign Landscapes is Volker's third full length album for FatCat's 130701 imprint (he has also released two albums on Karaoke Kalk). His 2008 Ferndorf has made it on my Best of 2008 lists, and received critical acclaim among the followers and critics alike. On Ferndorf, exploring his childhood memories, Hauschka experimented with the addition of two cellists, a violinist and even a trombone player. On Foreign Landscapes, Volker reflects on his recent travels during an extensive world tour. And this time he's got an entire orchestra! In fact, some pieces don't even feature prepared piano, and instead showcase Volker's skill at arranging an expansive and ambitious orchestral score.
"Nine of the album's twelve tracks feature a 12-piece string and wind ensemble from San Francisco's Magik*Magik Orchestra, alongside Volker Bertelmann's own prepared piano. Dynamic, brimming with character and colour, 'Foreign Landscapes' retains its author's distinctive musical voice and leads the listener through a beautifully balanced collection, moving from delicate solo piano lyricism to a propulsive, robust minimalism."
On the album, Düsseldorf (Germany) based Volker Bertelmann continues to delight our ears with his compositions. At times somber, at times playful, Bertelmann's chord progression explores major and minor tonalities that calm restlessness and lift up the spirits. The twelve pieces sound very intimate, appealing to the listener's perception, as if the orchestra was setup in your own living room, for a private performance. The lack of organic (or synthetic for that matter) reverb, creates a very personal atmosphere, with skillfully balanced stereo field, centering the listener. It's worth mentioning that the album was recorded at San Francisco's Tiny Telephone (used by 4AD, Nonesuch, Temporary Residence Limited, Matador, and other labels among the many) and mastered by Bo Kondren of Calyx, in Berlin.
130701 has only put out two records this year – Foreign Landscapes and Max Richter's Infra. And although the quantity of the label's output was low, I assure you that the quality of these modern classical records is top notch. Oh, and in case you didn't know and always wondered, 130701 is indeed named after the date on which FatCat has brought it to life – July 13th, 2001. Be sure to check out a set of these excellent videos, published as NPR interview with Hauschka, featuring Volker playing a piano with document clamps, a seashell necklace, marbles, and tennis balls… Be sure to also check out Hauschka's 2009 EP, Snowflakes And Carwrecks, as well as his debut on FatCat, Room To Expand.
hauschka-net.de | myspace.com/hauschka
fat-cat.co.uk | myspace.com/fatcat130701
Also on Headphone Commute