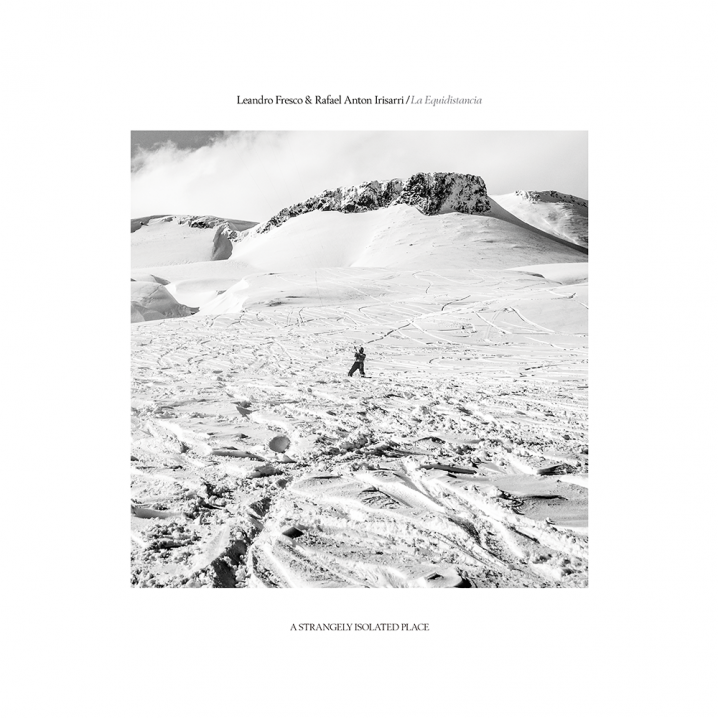 La Equidistancia is one of those records that I actually can't really listen to while wearing my headphones. This is an album that I need to experience loud. Not really at shuttering volumes, but enough where the vibrations of the bass move through my floor, and my desk, and my fingers, and everything in the room is in resonance at once, with a dense block of sound. But it's not only the slow rising pressure levels that play a key part in this composition, there is also a myriad of tiny textural ingredients that the ear can only pick up once properly amplified. As such, the record offers a very active listening experience, one for which I must prepare, in a particular setting at a particular time with a particular mood and a particular sense of openness to receive. This time is now, and so I enter.
Throughout the forty-minutes of this six-piece release, Argentinean Leandro Fresco and New York based Rafael Anton Irisarri collaborate on a morphological tapestry of sonic visions, multi-layered with thick guitar-driven drones, ambient pads, and organic noise surfaces. It's hard to dissect the individual elements, timbre, or the harmony that the pieces clearly have in this turbulent, at times dissonant, conflict of sound. That is really not the point. What's important is to recognize, to experience, and to connect with the overall sprawling canvas on which these tiers live, in their multidimensional laminations, aural blankets, and colored din.
I really love that grainy aspect you can hear in the music, degraded in a way, like it's been through some rough patches (as both Lean and I have been through over the years)", says Irisarri about this work. These rough patches, as Leandro details, are "printed and encapsulated in the grooves of the vinyl. And although they can not be seen, they will remain there. I am sure that something Raf and I felt, will reach the listener". Here, Rafael concludes, "There's a lot of sadness and memories in the music. I feel that one must embrace this sadness and share it; make others know we are not so different; not alone in this world".
There is a whole another story that unfolded post production of the album and during its pressing on vinyl, and how the printing plant would not accept responsibility for damaged goods delivered to A Strangely Isolated Place which was a clearly unacceptable product. But I'll spare you the details (you can find them online on Raf's and ASIP pages). The good news is that the funds for a reprint have been raised by the community, with an additional digital only EP from the duo, titled La Espera, and after a near revolt by all its supporters, this unmentioned firm refunded the money. So all's well that ends well. Meanwhile, the followers got few extra tracks out of it, so maybe it was meant to be? My favorite track remains "Un Horizonte En Llamas". Highly recommended.