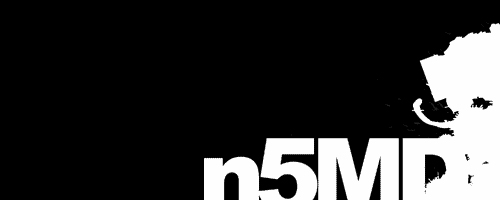 For today's Sunday Sound Bytes Label Special we are visiting with the Oakland based n5MD, one of my long-time favorite labels specializing in "emotional experiments in music". I am very excited about a few upcoming releases on n5MD, especially the long-awaited Arovane release, as well as another gorgeous installment from bvdub. Meanwhile I wanted to cover a few recent favorite albums from Ruxpin, Last Days, Ex Confusion and (ghost), names that should be already familiar to you, since their appearance in some of our Best Of The Year selections.

Ruxpin
This Time We Go Together


n5MD

It's been about three years since we last heard from Jonas Thor Gudmundsson, an Icelandic electronic musician recording under his Ruxpin alias. If his real name sounds familiar, it's because together with Plastik Joy's Fannar Ásgrímsson they make up another n5MD project, namely Asonat. After five releases bouncing between Elektrolux and its sub-label Mikrolux, Gudmundsson got signed on to n5MD, and kicked off a new series of albums: I Wonder If This Is The Place (2010), Where Do We Float From Here? (2010) and now This Time We Go Together. As with all experiences gained over time, the production became tighter, the concept fuller, and overall more intelligent in design. And when it comes to the IDM acronym, although the 'D' is no longer present, the 'I' is still an important ingredient in 'M'. There are many fantastic and fascinating forms on this collection of sixteen pieces. From pensive piano keys over field recordings, to electro infused dropping beats over a buzzing of synths, to glitchy goodness measuring out the fast-paced rhythm over the slow-stretching chords, each explored idea paints a picture of a fantasy world which could be almost reached by our outstretched hands minds. This journey is musically described through a cohesive theme, poetically through the track titles, and subliminally through a hint of abstract vocals on a few pieces by Asonat introduced Oléna Simon and Chihiro Dunn. Given the amount of thought explored in each scene and story I am reminded of The Flashbulb, Lackluster, and Blamstrain.


Last Days
Satellite


n5MD

Another very welcome return to the music scene comes courtesy of Graham Richardson. I've been listening to Last Days since his 2006 n5MD début, titled Sea. When I first heard this Scottish musician's work, I instantly connected with its melancholic themes, nostalgic motifs and more importantly, organic ways. Richardson's music exists somewhere outside of genres, always exploring the very personal themes of "stasis and flux, escape and acceptance." Satellite is the fourth album by Last Days, diving deeper into electro-acoustic shoegaze, lo-fi electronica, and cinematic ambiance. This is immediately a more retrospective work, with casual walks down the memory lane, flashbacks to instructional records on good manners, and innocent bed time fantasies of orbiting the Earth in our protective space suits. This childhood dream pinnacles at the eleven-minute track titled "To The Sky" (a favorite on the album), where endless ethereal pads stretch into outer space becoming one with the infinite. With these thoughts I want to run out into the yard, lie on the grass, and stare into the starry sky, looking for the fading echo of long time dying planet. Instead, of course, we're staring into glowing screens, obsessed with daily tidbits of another person's life, unable to unplug and really live our own. And although these are only thoughts, they are indeed brought on by music of Last Days, a message well received through simple ways of music. Recommended if you like Eluvium, Porn Sword Tobacco, Slow Dancing Society, Olan Mill, Clem Leek and Deaf Center.


Ex Confusion
With Love


n5MD

Do you know that point in your daily grind when you realize that you just may be surrounded by all the insanity? And have you recognized that you may be just one of the contributing factors? It is during such frustrating moments when I decide to pull myself away, and instead listen to music. Thankfully I can turn to

Ex Confusion

[how appropriate is that name right now?] to extract my mind away from all the funk, and pacify with purity. I was first introduced to

Atsuhito Omori

music through his 2012 release on

n5MD

, titled

Embrace

, which subsequently captured a spot on Headphone Commute's Best of 2012 :

Music For Withered Leaves And Lonely Fishtanks

. In my previous coverage, I've compared Omori's work to nostalgic times "

when first touch of love was acute and immeasurable, beyond worldly space and the infinite time

." This time, it seems that Ex Confusion takes on this theme even further by directly titling the album

With Love

. Somewhere between solo guitar shoegaze, ambient tenderness, and soft piano keys my mind begins to slowly melt, and I forget about all the lunacy that somehow made some sense ago. On his third full-length album, Omori perfects the warm palette of textures, smooth soundwave curves, and generous reverb to give you that floating feeling through the pastel fields of sun, sky and grass. The resulting calmness is reminiscent of organic serotonin reuptake inhibitors, giving you that uplifting feeling of well being and ease.


(ghost)
Departure


n5MD

Oakland (California, USA) based

n5MD

continues to treat us to new discoveries. Back in 2009, when I interviewed the label's founder and curator,

Mike Cadoo

(aka

Bitcrush

and

Dryft

) for the

n5MD label profile

, I asked him for advice on starting and running a label, to which Cadoo responded with: "

Be true to what YOU want for YOUR label

," and that's the rule he's sticking with, because n5MD is consistently unlike any other. For the latest tiny gem, n5MD digs up Brian Froh's alias

(ghost)

, a Connecticut-based project exploring hazy electronica with just enough IDM rhythms to whet your thirsty whistle. Inspired by acts such as

Proem

and

Boards of Canada

, Froh creates captivating spaces lightly sprinkled with influences by Edgar Allan Poe and Stephen King. But these are not such scary stories. In fact, most of the pieces are somewhat major in scale, with speckles of piano notes, synth pads, and glitchy drum machines. The melodies are comforting and reassuring, like a small glimpse of light at the end of the tunnel towards which the soul will surely rise. Although Froh has previously recorded music together with a group of friends,

Departure

is his solo début, focusing on music that is described by the label as "

a bridge between emotions felt in everyday life and a story of fantasy

." Recommended for long summer drives with windows down and the sun visor up. Fans of label mates, such as

Another Electronic Musician

,

Lights Out Asia

, and

Port-Royal

will enjoy.