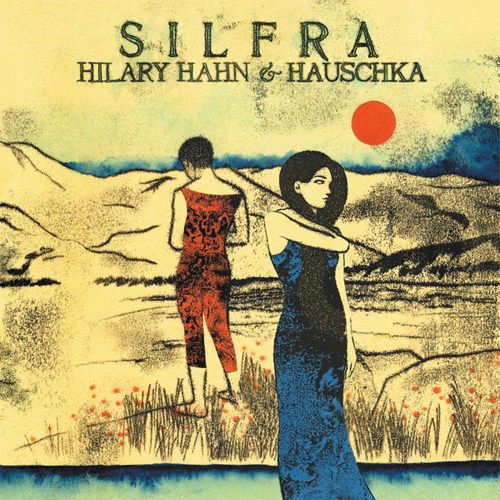 Has it really been six months since I've seen Hilary Hahn & Hauschka perform live? I can't slow the time, but I can keep the memories. It seems that just yesterday I sat in the front row, looking up at Hilary playing her violin, while Volker Bertelmann smiled from the corner behind the piano. She would get lost in her music. Her eyes closed she would bend knees and shuffle booted feet in time with the beat, moving with music in a magical dance. Occasionally she would glance at Volker, who seemed lost in percussive piano elements himself. And the two would connect, in that mysterious and curious language. One or the other would nod, and the rhythm would shift.
If you're a fan of Hauschka, as I have been since The Prepared Piano (Karaoke Kalk, 2005), then you should not be surprised. His music on Silfra maintains the staccato arrangements so prevalent in his previous works. The various wooden, plastic and metallic objects still occupy their places on the piano strings, transforming preparing the instrument for its primordial roots. But it is the slow legato melodies of Hahn's violin that tie it all together, bonding two instruments into one inseparable knot. At times the music travels back in time, reminding me of black-and-white post-war films, where piano and fiddle play in the coffee shops of Krakow.
The album [as was their concert] contains twelve semi-improvised pieces, where the two musicians feed on each other's liberties to "go anywhere we wanted within the music if we created it in an environment that allowed us the freedom and independence to explore." The environment references a geographic location near Reykjavik, Iceland, where the North American and Eurasian tectonic plates meet, after which the album is named. After meeting in early 2009, Hahn and Hauschka spent ten days recording the album with no set conceptions or artistic intentions. The result is a raw chemical reaction between the two greatest musicians of our days.
You're hearing exactly what evolved at the moment it came to life, in every second of this album. It was such a rewarding experience making the record that I get a little nostalgic when I hear it.

— Hilary Hahn
What one should be impressed about is the fact that Hauschka has finally made it to Deutsche Grammophon, a prestigious German label which is dominant in the classical music community. And wait, there are more surprises. In addition to Hahn and Bertelmann, the record was produced by Valgeir Sigurðsson [yes, the same Sigurðsson of Bedroom Community who has recently released Architecture Of Loss]. The album is available on CD and vinyl, from the same label that embraced Max Richter's entry into Recomposed series of Vivaldi – The Four Season (Deutsche Grammophon, 2012). Highly recommended!