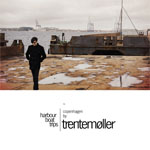 Danish electronic producer, Anders Trentemøller, sets aside his studio equipment used to make some of the finest raw and tight minimal house grooves, to put together a compilation of some of his favorite downtempo tracks from Copenhagen. Harbour Boat Trips is a commissioned selection of folksy, ambient and electronic tracks, sprinkled with beautiful vocals, beats, and live instrumentation. This is the music you'd expect Trentemøller to listen to on early lazy Sunday mornings as he's waking up to a cup of coffee. In the liner notes, Trentemøller confirms:
"Dear Listener, within this compliation I have basically chosen some of the many songs I use in my own most intimate hours, coming down after gigs, cleaning my apartment, waiting for friends to arrive or simply daydreaming with my twenty-first century walkman through the city of Copenhagen. […] All the artists on this compliation which include names from nearly four decades have, to me, created different aspects of beauty."

Opening up with Grouper and diving into Gravenhurst, you're immediately set for a selection of songs traversing moods and genres. There are many pleasant surprises along the way from previously unknown (to me) artists. For example, I've heard before music by Emiliana Torrini with releases on FatCat, but after hearing her lovely voice on a track "Lifesaver", I add her acoustic album, Fisherman's Woman (Rough Trade, 2004) to my collection.
A track by The Hypothetical Prophets (Proroky) with Russian overdubbed lyrics take me out of their experimental neo-industrial chemical dub-house into the late 70s synth-pop track by Suicide titled Cheree. Moving through new wave beats by David Garcet. Following a haunting glitchy house track by Rennie Foster, in floats a Four Tet remix of Caribou's Melody Day, full of acoustic guitars and confident muffled four-four kick. With that we move into Trentemøller's edit of The Raveonettes cover of Joy Division's She's Lost Control. Before the compilation ends, Trentemøller finally appears with his own track, Vamp, followed by Two Lone Swordsmen and a fitting closure by Soft Cell's Tainted Love.
This compilation is the very first release from Hamburg based hfn ['ha:fən] music, which opens up on its site with the following statement: "Harbours are open doors to the world, and so is hfn, and to all spectrums of music." There is not much information that is available about the label on its site or elsewhere, but I expect we'd see a few more installments in this series in the future. In closing, I'd describe this release as a personal mixtape shared by Trentemøller especially for you. Enjoy!