Compilations are notoriously difficult to cover. Usually, when I write an article on a collection of tracks, I spend some time capturing a specific theme or concept that the volume is made up of, and then feverishly rattle off the contributors. It's tough to encapsulate the theme otherwise. That doesn't mean that I don't listen to them, of course. There are plenty of mixes and compilations that make it to the top of my rotations. The entries below are listed in alphabetical order by title.

5 Years of Hyperdub (Hyperdub)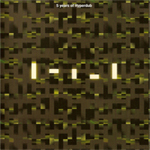 Being the first one alphanumerically, it's kind of difficult to skip a compilation celebrating the fifth anniversary of one of the most influential labels of dubstep – Hyperdub. Across two discs and 32 tracks, the owner of the label, Steve Goodman, aka Kode9, compiles many of the past 12″ and some unreleased tracks in a variety of genres, such as dub, garage, grime, dancehall, house, and of course dubstep. Here are more than just a few stylistic pioneers like Burial, The Bug, Flying Lotus, Martyn, Rustie, Zomby, King Midas Sound, Joker and of course Kode9 himself. The first disc contains all new material from the label, while the second disc includes the highlights and the essentials of the last five years. More than just a collector's release, this double-disc unmixed marker in time, simply titled 5 Years of Hyperdub, is an essential addition for any serious bass head.
88 Tapes (Keshhhhhh Recordings)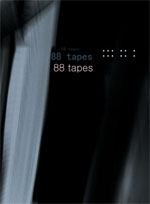 Previously covered, this compilation from Cambridge based Keshhhhhh Recordings run by Simon Scott, features some of the well known and celebrated masters of ambiance and minimalism. Mastered by 12k label owner, Taylor Deupree, the 18 track selection of sound explorations embody a theme of remixes and reworkings from recordings made by Scott on an audio cassette in 1988. Scott invites many of his friends to participate in the label's first release, among them we find Aus, Mark Templeton, Fourcolor, Sawako, Lawrence English, Christopher Bissonnette, Benoît Pioulard and Hannu. With a roster like that, it's no wonder this release makes our list of favorite compilations of 2009. Since the entrance onto the experimental music scene, the label has put out a dozen of releases that you surely must explore. Be sure to read a full review of 88 Tapes on Headphone Commute.
Ad Noiseam Summer 2009 Label Compilation (Ad Noiseam)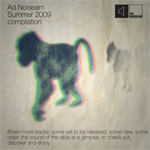 There's no better way to get to know a label then through its own selection of tracks picked to showcase its catalog. And what more can one ask for, when such a compilation is free (you can upgrade to a high-res 320kbps for about 5.00 €). And if you purchase anything directly from the Berlin based Ad Noiseam, you get a free CDr copy. Featuring 16 tracks from the label releases, the artist roster includes all of my favorites: The Kilimanjaro Darkjazz Ensemble, Detritus, DJ Hidden, Cardopusher, Somatic Responses, The Teknoist, Mad EP, Funckarma, and many others. Since the label is known for a range of experimental electronic music, this grab bag includes dark ambient, industrial, drum'n'bass and other genres. Download this release for free: Ad Noiseam Summer 2009 Label Compilation.
Approach Lights 09 (Tympanik)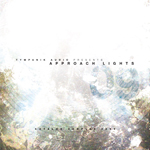 Chicago based Tympanik Audio has been quietly rising up to the top of the most influential electronic labels within the last few years. The label has been steadily pumping out amazing releases since 2007, with many albums making it to the "best of" lists. Focusing mostly on the darker side of IDM, ambient, industrial and rhythmic noise, Approach Lights 09 is the label's catalog sampler for 2009. Here are some of the label's rising stars, like Totakeke, Aphorism, Zentriert Ins Antlitz, Access To Arasaka, Stendeck, Autoclav 1.1, Mechanical Steering, and Displacer among the many. Emerge yourself within the beauty and darkness of some of the edgiest music to hit the scene. If you like this compilation, be sure to pick up Tympanik's Approach Lights from 2008, as well as Emerging Organisms and Emerging Organisms Vol. 2.
Assassin Volume One (Shogun Audio)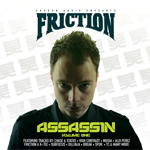 Mixed by Ed Keeley, aka Friction, one of the best drum and bass DJs on the scene today, this compilation from Shogun Audio showcases some of the finest d'n'b from around the globe. Shogun Audio has previously released a few remixes by Friction, as well as some excellent EPs from Spor, Noisia, and Commix, all of whom appear on this compilation. Giving each track on average a minute and a half to develop, Keeley does not let us breathe, starting off with Ed Rush & Optical moving across monumental tracks from artists like Total Science, Alix Perez, Dillinja, Break, London Elektricity, High Contrast, Icicle, and Apex just to name a few! There are 32 tracks in total on this 70 minute mix. What did I tell you in my intro to this article above? It's impossible to cover mixes like this one in their entirety, especially when there are so many great artists showcased in one place!
The Black Box (Flingco Sound System)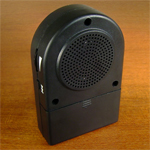 Forget the happy-go-lucky Buddha Machine… The Black Box is here! This tombstone shaped hand held device, which eerily mimics a monolith, contains looped instrumental tracks and two dark spoken word sound pieces from Annie Feldmeier Adams, that will make you shiver in despair. Try commuting with one of these in your pocket, the volume turned all the way up on the first track, continuously repeating a phrase in different intonations: "Today I will not kill myself" or "I don't feel anything". Get my drift? With nine tracks in total, composed specifically for this project, Flingco Sound System creates a one of a kind compilation that is a lot more than just a novelty item. I personally enjoy having it fight against the two Buddha Machines and watching it melt their faces off with its evil drones. Incidentally, I see that FM3 and Throbbing Gristle have released Gristleism (Buddha Machine 3.0), but never mind that now – get The Black Box for Christmas!
FabricLive.44 – Commix (Fabric)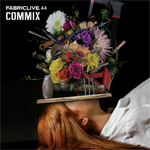 Please don't hate me, but I'm still on a d'n'b kick… Every year London's Fabric label puts out some of the most thought out compilations. I have officially become a fan, because I own every single volume. For FabricLive series, volume 44, the label invited George Levings and Guy Brewer, collectively known as Commix, to rip us a new one. Interestingly enough, the mix was recorded on the same day that Barack Obama became the President of the United States. On this mix, Commix starts off smooth, riding into nu-school, and finishing off with some classics, like Photek. Commix contributes four tracks of their own to the mix, picking out the anthems from Rufige Crew, Logistics, Calibre, Jonny L, and Instra:mental. And let's face it, the cover art is pretty damn awesome. Be sure to also check out a mixed compilation by Omar S – Fabric 45: Omar S – Detroit.
For Your Listening Pleasure And Occasional Terror (Bedroom Community)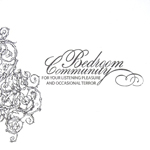 This is a very limited CDr that I was lucky enough to get my dirty hands on. And what a trip it is! Join friends of Bedroom Community to take you through some experimental, left field, and abstract lo-fi songs that showcase the sound of Iceland and beyond. Here, label owner, Valgeir Sigurðsson, appears alongside the critically acclaimed Ben Frost, as well as globally recognized contemporary classical musician, Nico Muhly. We're also introduced to Shahzad Ismaily, Sturla Þórisson, and Indigo Street among the many. Listening to 16 tracks that were designed For Your Listening Pleasure And Occasional Terror is like eavesdropping on a gathering of musicians in a studio, each passing the instrument to each other in turn to play. Well, maybe not eavesdropping… "surrounded" is a better word to describe the experience.
Frame.Sync (Raster-Noton)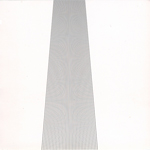 German based label, Raster-Noton, founded by Olaf Bender, Frank Bretschneider, and Carsten Nicolai, has been known for turning static noise into rhythms and re-interpreting daily patterns back into noise. The experimentation of sound approaches the academic level of archival dissertation and museum installations. So when the label compiles a disc with 14 tracks from its top notch artists, you don't ask questions, you simply follow. Here are all of my favorite artists: CoH, Kangding Ray, Vladislav Delay, Fennesz, Pixel, SnD, Atom™, Byetone, and of course, Alva Noto. This compilation was originally given out for free with the ticket purchase for the OFFF Festival (Lisbon, May 2009), during which Raster-Noton showcased its artist roster in the same-titled event. With some unreleased material, this release is a must!
Future Sound of Russia (Hospital)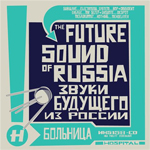 There's a simple rule of thumb with this, common knowledge, if you will: if you're feeling really sick, you must go to the hospital – seek professional help for all of your troubles. Hospital Records has previously brought us The Future Sound of Budapest, The Future Sound of Cambridge, and The Future Sound of Tokyo. It is now Russia's turn to showcase the country's drum'n'bass talent. And what a selection it is! Taking on a whole new range of the genre's sub-styles, the 12 tracks on this unmixed compilation range from micro programmed minimalism to upbeat jazzy riffs that drop into the darkness with the saw-toothed bass, then soar up the cliff with ambiance. Among the well known are Bop and the recently signed Subwave. There are also many new faces here, such as Mendelayev, Engage, Nothing, Despot, and Mr Sizef. This release has only hit the streets, and it's already blowing out my ceiling paint. Grab your CD, vinyl or digital download directly from the label.