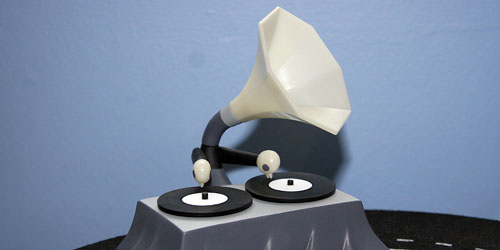 Besides listening to albums and compilations, I do tend to consume a lot of mixes released around the net on various blogs, podcasts, and labels. Although this selection is pretty enormous, I'd like to take the time and document some of the mixes that have appeared in my rotations more than a few times, and will most likely remain on the list. The other, most important reason for this post, is so that I could share this music with you. And best of all, these are all FREE for you to grab right now!
Bop – Autumn Studio Mix (Sonorous Music)
This one was recommended to me very recently, and I have already listened to it a bunch of times. Bop compiles a mix of intelligent drum'n'bass with a hint of bass heavy IDM elements. This one is exclusive to Sonorous Music. A big portion of tracks are produced by St. Petersburg (Russia) based Bop himself, which is very impressive. The tracks are minimal, glitchy, and deep. Highly recommended. I'm definitely keeping my eye on Bop.
Anders Ilar – Love Fields (Electronique.it)
Anders sent me a copy of this mix himself, but it appears to be featured on Italian electronic music magazine and podcast, electronique.it. Ilar arranges an experimental glitchy mix layered with ambient and modern classical pieces, featuring Murcof, Alvo Noto, Deru, Kettel, krill.minima, Morgan Packard, and even Shadow Huntaz. An excellent selection and very fluid flow.
Luke Hess – mnml ssgs mx05 (mnml ssgs)
Here's a mix featured on a blog I frequent, mnml ssgs, covering everything minimal. On this exclusive mix, Detroit based Luke Hess compiles up some tech house, minimal techno, and dub-tech, featuring tracks by himself, Sistema, Luciano, Efdemin, Urban Force and others. This mix has kept me upbeat, even during the most stressful situations. I especially remember bopping my head to the groove in the airport security line. Hope it does the same for you.
Jasper TX – mnml ssgs mx08 (mnml ssgs)
OK, while I'm still covering the mnml ssgs blog, here's a treat from Dag Rosenqvist, aka Jasper TX. On this exclusive mix, Dag features some ambient, modern classical and minimal tracks from Eluvium, Tsukimono, Jóhann Jóhannsson, Machinefabriek, and himself with a beautifully crafted flow of sound. Don't forget to add mnml ssgs your RSS feed and keep up with their nice writeups and a nice selection of exclusive mixes.
Surgeon – For Dog Faces Only (Spannered)
If you feel like hitting something a bit more harder, you can always count on the Surgeon. Put this in your pipe and smoke it. An excellent grind through Jeff Mills, Monolake, Joey Beltram, Basic Channel, The Surgeon himself and many of his other favorites. This mix comes from Spannered radio where it is still one of the most popular on their list. If you poke around on the site, there are a few more nice ones by Neil Landstrumm and Aaron Spectre that I recommend grabbing
Ambivalent & JPLS – M_nus 10-Year Anniversary Mix (XLR8R)
This mix, celebrating M_nus Records' 10 year anniversary, appeared in . I'll be honest, that most of the magazine's podcast episodes are blotchy, but this excellent mix features tracks from False, Heartthrob, Gaiser, Ambivalent, and of course, the label owner, Richie Hawtin and his famous Plastikman moniker. Pretty solid coverage of all the label's favorites.
The Glitch Mob Mix (XLR8R)
Since I already mentioned the XLR8R podcast above, I might as well bring your attention to this compilation of the Los Angeles based collective, Glitch Mob, featuring some of the west-coast electro-infused instrumental hip-hop, chopped-up glitch and head-bopping beats. The names to watch for on this one are edIT, Ooah, Boreta & Eprom, and Clipse. Definitely a great party flavor there…
Pinch – EE.ORG 1st Anniversary Mix (Electronic Explorations)
It's no secret by now, that for all of my dubstep needs, I regularly tune into Electronic Explorations podcast. Last week, EE celebrated its one-year anniversary, and Pinch contributed an exclusive mix featuring a handful of his own tracks, plus a few from Distance, 30Hz, Peverelist and Deleted Scenes. Apart from the continuous mix appearing in the middle of the podcast, Rob features a few of forthcoming releases from Planas, Mount Kimbie, and a favorite of mine, Reso. Just add this to your subscription list, grab previous episodes (all, if you ask me), and forget about searching for the latest tracks – Rob's got it covered for you!
Amon Tobin – Solipsistic Nation No 82 (Solipsistic Nation)
Solipsistic Nation is yet another podcast that is regularly on my rotations list. This year, Bazooka Joe, covered a variety of the best styles in electronic music. My favorite episode happens to be his interview with Amon Tobin featuring some of his earlier tracks released under Cujo moniker. Besides the music, the interview itself is very informative, and although this is not really a continuous mix by Amon Tobin himself, I still felt compelled listing it here as one of the best for this year.
Emanuele Errante – Live Set (Somnia Podcast)
Somnia Records had only four episodes in its podcast this year, yet one of the labels artists, Emanuele Errante, happened to secure a spot with his exclusive Live Set. Grab this one to dive into some gorgeous ambient and modern classical. I really hope that Somnia will resume its podcast, perhaps featuring a live set by the label's owner, Evan Bartholomew, who recently released another LP, "Phoenix Rising" under his famous Bluetech alias.
I'm going to leave off this post here, inviting you to submit some of your own favorite mixes of the year. Please chime in and drop off links to free and legal downloads. I'd be sure to check them out!!!