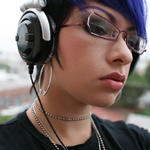 Well, once again, it's that time of the year! I know we've got a whole month to go, but the labels have already adjusted their release schedule, and bumped up their latest catalog additions to 2011. Once again, I gather my favorite albums into a humongous pile, trying to decide how I'm going to share the best of the best with you. I think I'll stick with my last year's categories (what do you think?).
Meanwhile, I need your help in compiling Headphone Commute's Readers' Selections. Just like we did last year, I need you to submit your favorite releases of the year. This will not only contribute to your Best of 2010 selections, but give you an opportunity to share your top choices with the rest of the readers! To help me in aggregation at the end of this month, all I ask is that you PLEASE follow the following format:
(note: you don't have to submit for all categories)
Top 10 favorite full-length albums. On each line write ARTIST – ALBUM.
Top 5 favorite compilations or mixes. On each line write LABEL – TITLE.
Top 3 favorite labels of the year. On each line write the LABEL.
Top 3 favorite new artists of the year. On each line write the ARTIST.
Here are your selections from last year: [part one] [part two]
Submit your votes for best of 2010 releases by replying now!!!